Tethering a Blackberry via Bluetooth
Last Friday, we made our summer pilgrimage to Michigan to visit family. This year we were heading up (farther) north to visit some extended family.
Let me digress; we left Friday morning around 7a, and arrived at her parents' house around 830p. Midway through the day on Friday, I got an email from someone asking for a how-to document I had written, so I figured I'd polish up my draft and send it over the weekend.
Saturday morning, we headed five additional hours north.
In such remote locations, internet connectivity is hard to come by — and so are other WiFi routers to leech from. So after some panicking, I decided to explore tethering my Blackberry to my laptop for the ultimate MacGyver'd internet connection.
As a disclaimer, I don't know how different companies charge for tethering. This is my work phone, and since I needed a connection to do work, I figured any possible expense would be easily explained. I know that T-Mobile (my old mobile provider) charged a flat rate for everything, but who knows what AT&T does, especially with corporate accounts and such. Anyhow, you've been warned.
I installed Windows 7 RTM last Wednesday night before leaving, so I'm working with a pretty vanilla machine right now — Windows 7 RTM, Visual Studio\SQL Mgmt Studio and some other development tools, Office 2010 and little else. Of primary importance for this little tutorial, I did NOT have the Blackberry Desktop software installed, and I still don't know — it's not a pre-requisite. I was able to get Bluetooth tethering working without any additional software — good if you're unprepared and have no chance of an internet connection.
Anyhow, let's get started. I'm using an AT&T Blackberry Curve 8310 (GPS) and a Lenovo T500 with a Broadcom Bluetooth chip.
Turn your phone's Bluetooth radio on and pair it with your laptop. My PC installed a 'Standard Modem over Bluetooth link' driver once it paired.
Next, find your modem in Device Manager (Start à Run à devmgmt.msc à Modems à Standard Modem over Bluetooth link) or Phones and Modems in Control Panel.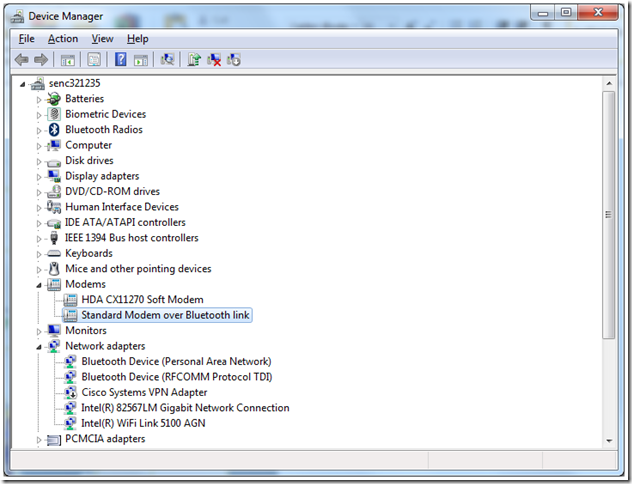 Open the properties of your modem and click the 'Advanced' tab. Type this in (including quotes) to the Extra Initialization Commands box: +cgdcont=1,"IP","wap.cingular"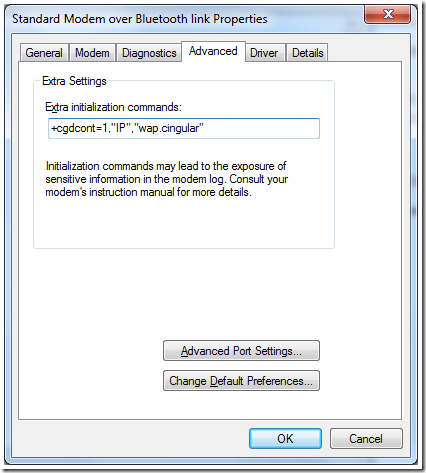 Now your modem is configured. Next we've got to create the actual connection. Head over to Devices and Printers.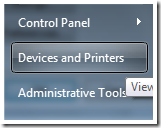 You should see your Blackberry in there — right click and select 'Create a dial-up connection…'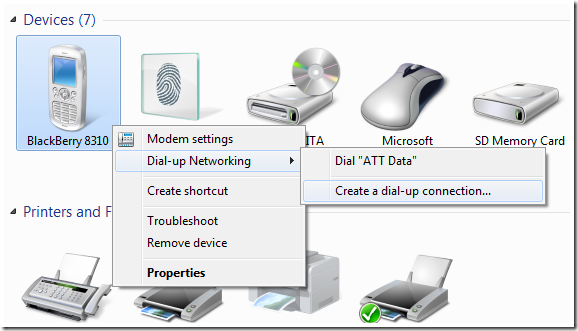 Select your modem on the next screen, and use these settings:
Dial-up phone number: *99#
Username: [email protected]
Password: CINGULAR1
Click next, then finish. Chances are it won't connect. That's ok, because there's another setting we have to fix.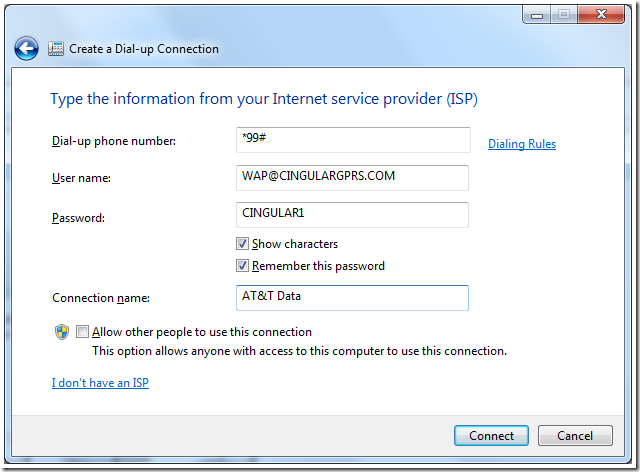 Go to Network Connections (Start à Run à ncpa.cpl) and find your new dial-up connection. Right-click, open the Properties, and head to the Networking tab, then double-click Internet Protocol Version 4 (TCP/IP v4).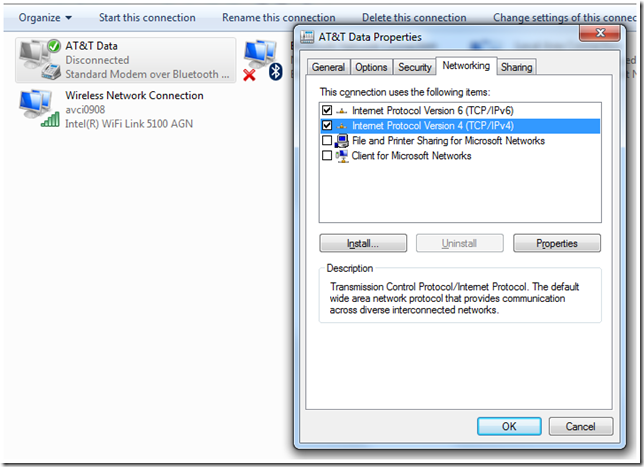 Click Advanced, and Clear the 'Use IP header compression' checkbox under PPP Link.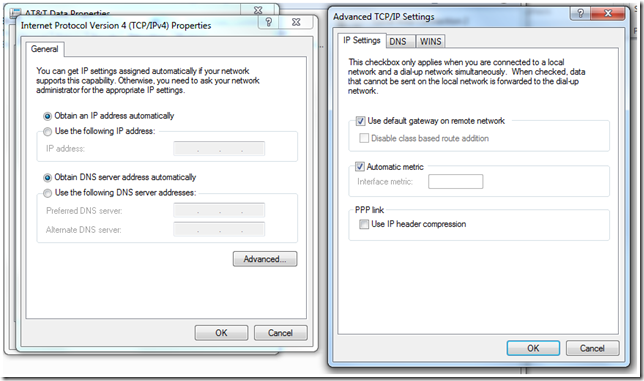 Now your connection should be ready to go. I've had good luck with both the password above and also with a blank username and password. Be sure to try a blank username\password if the ones provided don't work. Also, you may need to reboot for everything to properly take effect (particularly the modem installation — I had an error 734 and error 692 — rebooting fixed things right up).
Now, I'm on AT&T and my phone is an EDGE phone — prepare yourself for BLAZING 10 KB/s downstream (around 115kbps) and super-high latency — cellular networks are known for their brutal initial latency. Enjoy!